Dear Community, 
My name is Milan, and I'm a Product Manager at Personio. I'm really thrilled to be sharing with you the exciting developments and updates that our teams are working on for our Performance and Development product. Our top priority is always to provide the best possible experience for you, by constantly striving to improve and enhance our product.
In the coming 6 months, we have a number of exciting updates and new features planned that we believe will greatly benefit your daily doing. From improved User Experience and introduction of Performance Cycle Reporting and Calibration, to supporting employees to proactively request Continuous Feedback, we are dedicated to making our product the go-to solution for all your Performance and Development needs. 
We appreciate your continued support and feedback, and as always, we are here to help with any questions or concerns.
Now, let's see what's coming up next! 
Performance Cycles
⚙️ Customize sharing settings for Manager Reviews
This feature allows P&D admins to tailor the sharing settings for Manager Reviews to fit their specific organizational culture. With this update, HR Managers will have the flexibility to determine when Manager reviews are shared with employees. They can choose if a Manager Review needs to be reviewed and calibrated by the respective HR Manager first, or if it can be shared directly with the employee. This will give HR Managers more control over the review process and align it better with their organization's needs.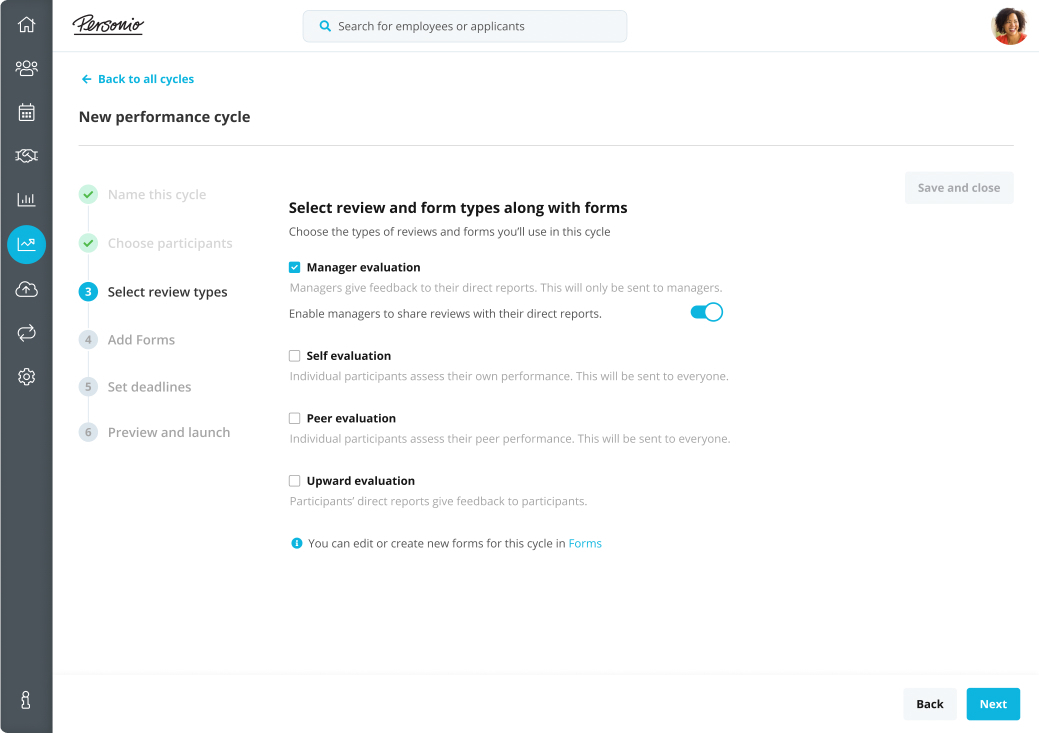 📊 Cycle Reporting and Calibration
We will introduce a new Analytics tab in the Cycle Overview, where HR Managers will be able to review quantitative/scale-type questions provided within Manager Reviews, to ensure an effective way to review, analyze and even calibrate them across the entire organization. This ensures a less biased and more standardized review process, which in turn increases the credibility of the process itself.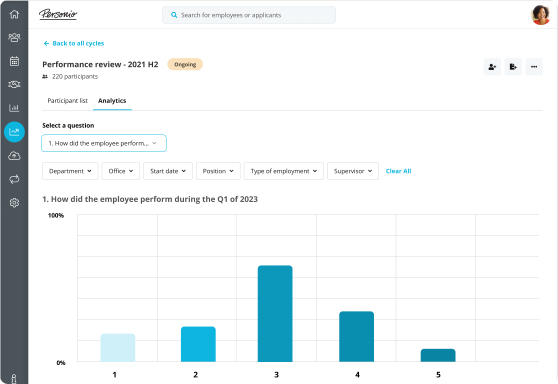 Continuous Feedback 
📄

 Give Continuous Feedback using Form Templates

 

This feature enables employees to use form templates created by HR Managers to give Continuous Feedback to their peers. The introduction of form templates can support employees to write more structured and effective feedback, focusing on specific areas that matter the most to be evaluated in their organizations.

 
📝 Performance notes in the P&D area
HR Managers and Supervisors will be empowered to create performance notes about employees that won't be directly shared with them. They can address sensitive information or make personal notes to remember later, with the peace of mind that it won't be shared with the employee. This feature will be available through the Feedback page under the Performance & Development area.
✨ 

Filtering performance data by type, employee and date

Enabling employees to filter and find performance data that they need at the moment on the Feedback page under the P&D area. They will be able to filter by type (continuous feedback, reviews and performance notes), by employee (provider or receiver) and by date. This helps them by saving their time (e.g. when filling a review) and improves their overall user experience.
🔐 Access rights for Feedback experience
Introducing dedicated access-rights to enable role based HR Managers to view every employee's continuous feedback, performance reviews and performance notes. In addition, it enables Custom access rights, where these individuals can be assigned to view this data for a relevant subset of employees (e.g. addressing a specific office, team, or sub-company). This is especially relevant for companies that need to restrict access to potentially sensitive performance data for certain HR Manager roles.
🙋‍♀️ Ask for Continuous Feedback
This feature empowers Employees to proactively ask for feedback about themselves and Supervisors to ask for feedback about their direct reports without needing to wait for performance cycles. With that, they can get real-time insights on their performance, addressing opportunities to improve as they arise and speeding up their growth.
Trainings
🗓 Enable creating a session with additional information
This release enables Training organizers to create training sessions with more accurate and structured information. When creating a session it is possible to select a date range instead of selecting only one date. On top of this, it is possible to define how the session will be delivered; virtually, in-person or hybrid, and include the location information accordingly. This helps with communicating training details in a structured manner for participants which reduces the amount of additional questions addressed to the training organizer. 
👥

 Selecting Participants by Condition

This feature enables training organizers to select participants by condition e.g. based on department, office, role, etc. Introducing the filtering options will remove a lot of manual work from selecting participants one by one. In addition, this will also make it easier to ensure the right people are participating in the training.
📁 Employee Training Record
This release enables HR Manager and Training admins to stay on top of employees training efforts by seeing employees training records with planned courses and training history. In addition, we enable supervisors to stay on top of their direct reports' training efforts by seeing the same information from their team members. This enables companies to have employee training records in a centralized place automatically after organizing training through Personio. 
Goals
🖇 

Duplicate goal to multiple employees

When a supervisor needs to set the same goal for multiple employees on their team, it currently takes a lot of manual work to create all of the goals one by one. With the ability to duplicate a goal to multiple employees, supervisors will be able to copy the same goal to their whole team in a single operation.
What do you think?
We are always looking for your feedback. Let us know what you think about the upcoming features and improvements in the comments below! Is there anything you're excited about, or would like to see on our roadmap?
Want to give your input on one of the product experiences in Performance & Development?

Book a call with our product managers using one of the following links: